Welcome to my portfolio
Mathew Lawson Meiers
Banana-eater extraordinaire. I drive fast cars, play soccer, and carry the cat around like a football. Oh, and I design stuff too.

I have extensive print and web design knowledge, as well as html and java script. I work hard and like learning new things. I spend my weekends tinkering with my M3, and evenings scouring the web for cool car parts.

I currently work for Rise Display a digital signage company in Kansas City.

Rise has been providing digital signage to universities and businesses across North America for over 15 years. Their Complete Display Solutions enable companies to deliver their messages via LED tickers, touch screen displays and lcd video walls using a web based content management system.
I BUILD DIGITAL SIGNAGE CONTENT, WEBSITES AND PRINTED MEDIA TO HELP YOU COMMUNICATE THE RIGHT MESSAGE. BASED IN KANSAS CITY, KANSAS, WITH WORLDWIDE CONNECTIONS.

Digital Signage
Experienced in a progressive market
While working at Rise Display, I've created digital signage designs for universities, restaurants and financial institutions. I work closely with the customer to develop a look that fits their brand and gets across their message in the best way possible.
see my work

Websites
Flash, HTML and CSS Expert
I build websites using a combination of flash, html and css. The most recent website I've worked on is artofmalach.com, a pottery and ceramics site for a talented sculpture artist. Check it out here.
see my work

Branding
Print versed and Branding Know-how
Creating a high-quality, memorable, and distinctive look is the first step toward a new company's success. I've done logo design as well as rebranding for several small business and entrepreneurs.
see my work
About
about the banana man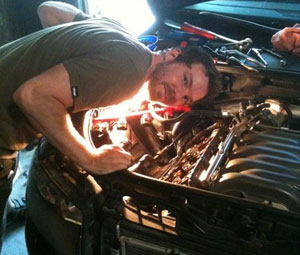 No, I don't really know where the "Bad for Bananas" came from, but I think it's important to add a touch of humor to the things that interest you. All my life I've been the creative type: drawing and painting from an early age. As I went through school, I just kept going with the creative mode. I specialize in digital and web design, though I'm experienced in print as well. I hope to continue employing this enjoyment in design in all areas of my work. And if you can't tell, I really DO like bananas!
[In the picture] Tinkering with my 2004 Audi S4. Yes, I've owned an assortment of german cars.
Not only is Mat a fantastic designer and able to bring a wide variety of ideas to make a design workable and fresh, he is also fun to work with and is good to burn through challenges of any kind. There are as many personalities as there are people, but some are people you just like being around, and that is definitely Mat. I recommend him and encourage people to connect with and get to know him too.
Resume
You'd be bananas not to hire me
Mathew Meiers
Rise Display
Position Held:
Lead Web Designer
September 2008 - Present
Duties:
Primary roles include designing/building content for touch screen and large format LCD displays. Other duties include troubleshooting hardware and software related issues while overseeing a small group of designers. Software technology routinely utilized includes Photoshop, Flash, Dreamweaver, HTML, CSS and proprietary web based digital signage software. Being the progressive industry that digital signage is, the job requires me to keep up to date on new web based technologies, which I thoroughly enjoy.
Allen Press
Position Held:
Electronic Prepress Technician
March 2006 - September 2008
Duties:
Processed and produced customer jobs for print publication using layout programs. Performed preflight check of jobs and pinpointed problems before readying for press. Fixed font and graphic problems, color/trapping requirements, last minute revisions and art placement.
Position Held:
Web Publishing Dept.
Online Publishing Assistant
March 2005 - March 2006
Duties:
Assisted in the conversion of printed magazines and journals to online sites. Used web browsers to proof web sites and fix any content or formatting problems. Worked in Photoshop and Illustrator to batch process figures and images and ran production filters on HTML and XML files.
Position Held:
Composition Services
Typesetter
September 2003 - March 2006
Duties:
Entered corrections to text, tables and math as marked by proofreaders or editors. Troubleshot departmental issues including color management, file conversions, and font management. Developed automated pdf worflow for typesetting department.
Johnson County Community College
Web Design/Developement Certificate
2015
FITC Toronto Conferences
Regularly attend to keep current
2015, 2014
Salina Area Vocational School
Commercial & Advertising Art Degree
2004
Smoky Valley High School
Lindsborg, KS Diploma
2001
Contact
Getting ahold of the banana man
Connect with me
What's yellow and flashes? A banana with a loose connection.
Where I Reside
In case you were wondering where I sleep.